Both blogging and quilting have been light lately, as I have been catching up on some of the quotidian little things that I have been avoiding in life. Like clutter. I think it will take me a full year to tame all the clutter.
Housework:
I really need to make a system so that something gets done every day.
Allietare:
I WILL start quilting this tomorrow. I will haul my machine out and give it a go. I will do a widely spaced meander through the body of the quilt, as I don't want to distract from the piecing too much. Then straight stitch the inner border, and maybe a medium stipple on the outer border. I like to quilt with variegated thread. I impulse bought a ton of it back in the day, and need to use it up! I think I have some tan to golden tawny brown variegated that would work on all the fabrics in the quilt.
And already, other projects are beckoning me. It's going to be small stuff for a while.
Idaho square dance blocks
, to make some new placemats. Great for any dinner that features potatoes, in my opinion!
And a few smaller projects have crossed my feeds. I've downloaded the patterns for these:
Valentine mugrugs
from
Poorhouse Quilts
(image is theirs too)
And this
mini totebag pin cushion
. Too cute. Pattern and image from
Poorhouse Quilts.
And I am normally not one for paper piecing, but I like this for some pillow covers, perhaps.
Nell's Star
a Judy Martin design. Image attribution contained within the image. Just trying to keep it legal.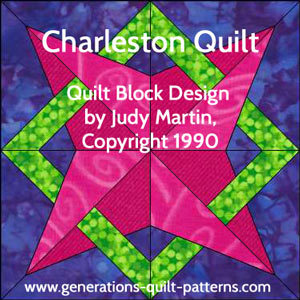 Do you recover from big quilting projects by making small things?